How About Radishes For Christmas?
Hang on for a minute...we're trying to find some more stories you might like.
What do you imagine when one mentions Christmas? To most of us residing in the United States, Christmas evokes images of a snowy winter night, Santa Claus, and of course, plenty of meticulously wrapped presents under the protection of a verdant green Christmas tree. However, millions around the world retain their own Christmas traditions. From the glow of giant lanterns in the Philippines, to the Oaxacan tradition of radish carving, Christmas traditions truly abound.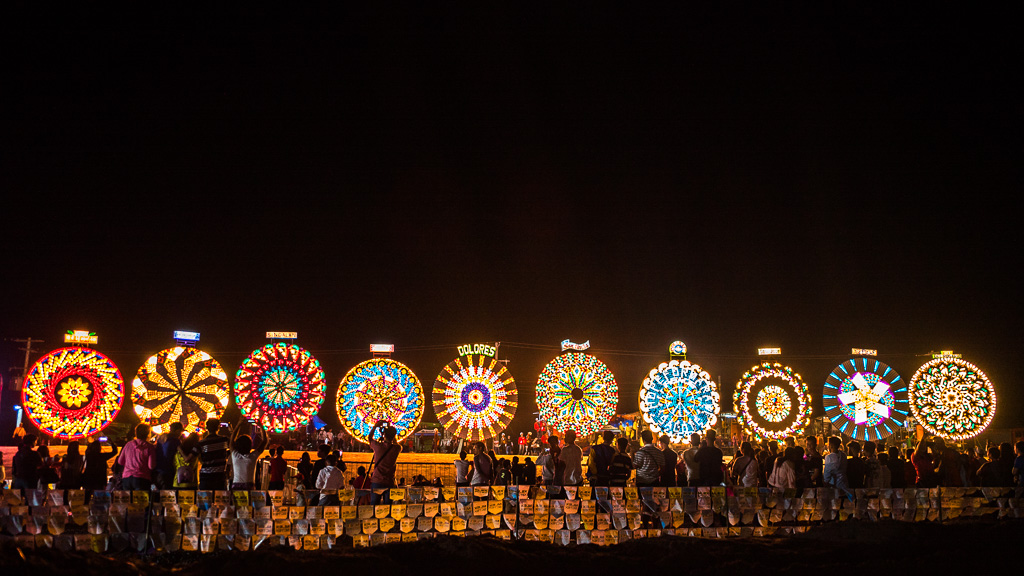 Made up of over 7,107 (known) islands, the Philippines remain home to various distinct regions, each with their own holiday traditions. The city of San Fernando though, holds the title of the "Christmas Capital of the Philippines" – thanks in large part to the Giant Lantern Festival (Ligligan Parul Sampernandu in Tagalog). During the festival, the inhabitants of the barrios (districts) compete with one another to create the most elaborate parol (the Tagalog name for the lantern). Traditionally, the barrios fabricate the parol from bamboo and papel de hapon (Japanese origami paper). However, as a result electrification and the increasing availability modern construction techniques, the parols have become more elaborate and colourful. As a result of a strong local enthusiasm for the Giant Lantern Festival, the beloved Philippine tradition will surely continue to grow ever more popular.
Photo credits to Picasa- Morgan Magazine
Japan – the land of the rising sun, samurai, giant hornets, and…fried chicken Christmases? Though not a traditionally Christmas-going nation, the Japanese have developed a rather unique tradition of a Kentucky Fried Chicken feast on Christmas Day as a result of increasing American influence. The tradition has grown so popular over the years that it sometimes proves necessary to order one's K.F.C. days in advance. Aside from fried chicken, the Japanese also enjoy many familiar traditions, such as gift-giving, the decoration of Christmas trees (albeit with a bit of a Japanese flair), and the hanging of wreaths and mistletoe. Certainly, the Japanese will continue to practice their Christmas traditions, and maybe even add new ones, in the years to come.
When one thinks of India, one certainly does not think of Christmas. However, the small Christian communities in India maintain very distinct holiday traditions. On Christmas Eve, most Christian Indians partake in a midnight mass service, which is often followed by an exquisite feast of delectable curries and the practice of gift-giving. Due to the lack of the traditional "Christmas tree" in India, most Christian Indians decorate a mango or banana tree. In addition to tree-decorating, some will even decorate their house with star lamps and clay lamps in order to signal the birth of Jesus. Now, decorating a roof with open-flame candles may pose a bit of a problem for Jolly Old Saint Nick, no? Well, according to the Christian community in India, Father Christmas delivers presents by horse and cart – rather than by a magical sleigh ride. Even though a minority for the entirety of their history, the Christian communities in India have still managed to preserve their ancient customs quite successfully, and will surely continue to do so for years to come.
In addition to being the birthplace of mankind, Ethiopia possess some very ancient Christmas traditions. As a majority Ethiopian Orthodox nation, most Ethiopians utilize the Julian instead of the Gregorian calendar for religious events. Thus, the Christians of Ethiopia traditionally celebrate the birth of Christ on the 7th of January, not the 25th of December. Preparations for Christmas begin with an Advent fast during the forty-three days leading up to Christmas Day. During the forty-three day Tsome Nebiyat ('Fast of the Prophets' in Amharic), one is prohibited from eating meat, dairy, eggs, and alcohol – instead opting for one vegan meal a day. After the conclusion of an early morning mass on Christmas day, most Ethiopians partake in a feast of various traditional dishes, such as wat (a thick stew containing meat, vegetables, and eggs) and injera (flatbread). Thus, after a day of prayer and feasting, Ethiopian Christmas comes to a close.
As a very diverse nation, Brazil remains home to a plethora of Christmas traditions. In the northeastern states of Brazil, it remains common for presepios (nativity scenes) to be displayed in churches, houses, and commercial establishments. Large Afro-Brazilian populations in the northeast also infuse their own Christmas traditions, specifically in terms of cuisine. Dishes such as Xinxim de Galinha (a rich chicken stew) and Moqueca (a seafood stew comprised of a variety of finfish and shellfish) often grace the holiday tables of northeast Brazil. In the southern states of Brazil – as a result of immigrant influences from the 19th century – one can find Christmas dinners filled with Italian Panettone, German Stollen (a cake-like fruit bread), and a variety of fruits, meats, vegetables, and alcoholic drinks. The more modern cities of the country retain their own traditions too. In cities such as Brasilia, São Paulo, and Rio de Janeiro, giant electric Christmas trees decorate the urban centers. Most Brazilians though, often participate in a midnight mass, with the start and end times of the religious ceremony varying from region to region. In addition to midnight mass, a tradition of amigo secreto (secret friend) gift giving all throughout the month of December remains common throughout Brazil. Ultimately, Brazil's unique regional cultures allow for a truly beautiful mosaic of Christmas traditions.
As in Brazil, Mexico's diverse regional cultures and history of immigration result in a unique mélange of Christmas traditions. For example, every year on the 23rd of December, Oaxaca holds a fierce radish carving competition. The size and detail of the carvings range greatly, with some Oaxacans even carving seven pound radishes into effigies of famous Mexicans such as Pancho Villa and and Emiliano Zapata. In addition to radish carving, the people of Oaxaca also enjoy a series of pageants and parades, with the posadas, a reenactment of Mary and Joseph's search for a lodging in Bethlehem, remaining a most beloved tradition in the state. Of course, no Christmas celebration in Oaxaca is complete without the state's world-renowned cuisine, with families often preparing tamales, moles, tlayudas, and rosca de reyes for the holiday celebrations. The town of Tlalpujahua, located in the pine covered state of Michoacán, also has its own unique holiday tradition of blown-glass Christmas ornament making. Beginning in the 1960s with the introduction of modern blow-glass techniques from the United States, ornament making has quickly grown into a town industry. In addition, the town hosts an annual Feria de la Esfera (sphere fair), which begins in October and leads up to December. Unlike the Radish Carving Festival in Oaxaca or the Giant Lantern Festival in the Philippines, the Feria de la Esfera has no competitive element. Instead, vendors fill the streets with their wares, thus attracting visitors from all over Mexico. The Mexican nation's great diversity surely contributes to the variety of holiday traditions.
While there remains a plethora of Christmas traditions around the world, our tour shall end here. Even amidst great variations in terrain, climate and culture, it is clear that many nations throughout the world continue to celebrate Christmas in beautiful and unique ways.